Ed Bailey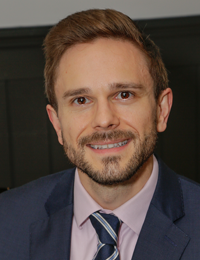 BDS (hons) MFDS RCS (Ed) M Oral Surg RCS (Ed) MPhil
Senior Clinical Lecturer/Honorary Consultant in Oral Surgery at Barts and The London, QMUL
.
Edmund graduated with BDS (hons) from the University of Liverpool in 2007; he then completed junior rotations in general dentistry and Oral & Maxillofacial Surgery in the North West. Edmund was appointed as an Academic Clinical Fellow/Specialty Registrar in Oral Surgery at the University Dental Hospital of Manchester in 2011. During his five years at Manchester, he completed an MPhil in pain control alongside a number of research projects. These included an industry-sponsored drug trial and an NIHR-funded project on patient safety in dentistry, one of the first studies in this field.
In addition to co-authoring three Cochrane systematic reviews, Edmund has published widely on a variety of topics including pain management, patient safety, dental education and evidence-based surgical techniques. He is a member of the Local Safety Standards for Invasive Procedures (LocSSIPS) national steering group at NHS England and he sits on the Council of the British Association of Oral Surgeons.
Edmund relocated to London in 2015 and, following a locum Consultant post at the Eastman Dental Hospital, he was appointed as Senior Lecturer/Honorary Consultant in Oral Surgery at QMUL in January 2017.
https://www.qmul.ac.uk/dentistry/people/profiles/mredmundbailey.html