Gurnam Aulakh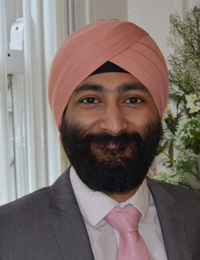 New Trainee Rep on Council – from 1 Jan 2021 – 31 Dec 2021
Gurnam graduated from King's College London School of Dentistry in 2013 and undertook dental foundation training (DFT) in Leicester. He went on to take Dental Core Training (DCT) posts in Oral and Maxillofacial Surgery throughout the Midlands, and following this has held Specialty Dentist roles in Oral Medicine and Oral Surgery.
Gurnam is currently a Specialty Registrar in Oral Surgery within Yorkshire and the Humber and has a particular interest in innovative medical education strategies and healthcare leadership.
Gurnam is also the lead dentist for the British Sikh Doctors Organisation (BSDO), which carries out health awareness and screening in the community.