Christine Goodall – Senior Clinical Lecturer and Honorary Consultant in Oral Surgery, The University of Glasgow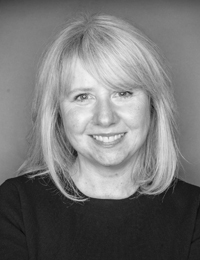 Christine is a Senior Clinical Lecturer and Honorary Consultant in Oral Surgery at The University of Glasgow's School of Medicine Dentistry and Nursing. She trained in Academic Oral and Maxillofacial Surgery in Glasgow and Aberdeen, she is the current chair of the SAC and the TPD for the West of Scotland.
Her work with facial trauma patients over many years led to her founding the charity Medics against Violence in 2008. Medics against Violence aims to prevent violence and reduce injury. They work in schools to help young people understand the consequences of violence from a health perspective. They also developed and provide training on domestic abuse, rape and sexual assault for health professionals, and others in front facing roles, through their Ask Support Care programme. They work in partnership with the Scottish Violence Reduction Unit to run the hospital based violence intervention programme, Navigator.
Christine's research interests lie in the fields of alcohol, violence and facial trauma. She is an Honorary Member of the Faculty of Public Health and was awarded and OBE for her work in violence prevention in 2016.